Order of the Saltire...
As the Muirhead Clan Society President and Commander in Chief Elect, it gives me great pleasure to award you with Clan Muirhead's highest honor for exceptional service in the advancement of the goals of the Muirhead Clan Society. This custom designed medal and certificate has been produced to recognize members for their enthusiastic spirit, dedication, and contributions to success and growth of Clan Muirhead.

As representative of the Muirhead Clan Society, I will record your name among an elite and honored group of our members, in our Clan Rolls and Clan history as an "Order of the Saltire" recipient.

Be it therefore known to all, our heirs, kith and kin and friends alike that they should show honor to you, for you have brought honor to us all through your contributions to us all.

"AUXILIO DEI"

For Clan and Kindred's Cause They Gave...
Recipients for the year:
Previous recipients:
December 2009
Madam Pauline Hunter, Chief of Clan Hunter, Robert Hunter
December 2006
Bob E. Morehead, Connie Frandson, Janice R. Muirhead
December 2005
Janice R. Muirhead, Gerald Neil Muirhead, Composer of "March of the Muirhead Clan"
December 2004 Laura E. Muirhead Matthew, Council Elder and Clan Convener
December 2003
Raymond L. Muirhead
Frances and Hillis Swanson
Nola M. Karr
Susan Nunes
David W. Morehead
Connie and Arnold Frandson
December 2002
Fran McGregor
Robert and Bonnie Schueler
Jeremy Wright
December 2001
Susan Shaw
Sandie and Jerimy Smith
David Grossett
Larry Smith
Charles D. Morehead
Adam L. Morehead
Dec. 2000
Sandie L. Morehead Smith
Susan Shaw
David Grossett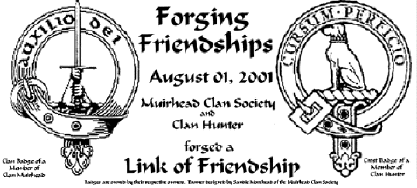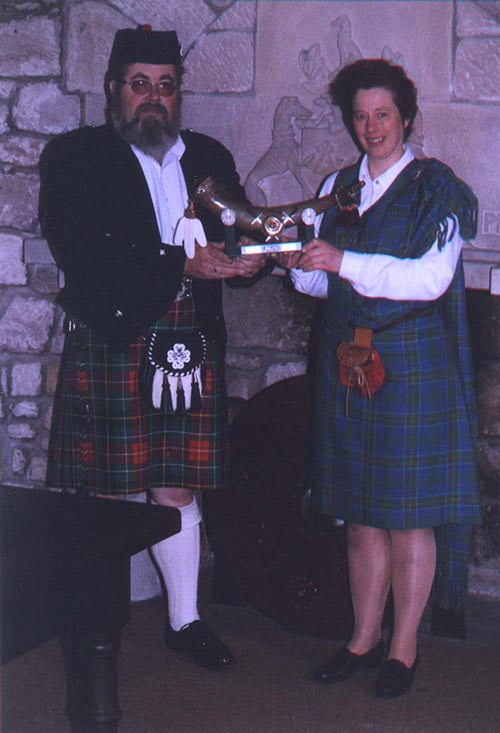 Pictured above, Chief Elect Raymond Morehead presenting Madame Pauline Hunter, Hunter Clan Chief, a handcrafted, scrimshawed powder horn, in May 2001, Hunterston Castle, Scotland
On August 1, 2001, Chief Elect Raymond Morehead, received an e-mail letter from Madam Pauline Hunter of Hunterston and of that Ilk, Clan Chief and 30th Laird, informing him that at the last meeting of the Clan Officers of the Hunter Clan that the Muirhead Clan was invited to "Forge a link of Friendship" with Clan Hunter. Both clans would, in every aspect, maintain their own identity and their own structure, and that the Clan Associations would be run separately. Clan Hunter, in forging this link of friendship, is making available to Clan Muirhead the facilities of Hunterston Castle during Clan Hunter International Clan Gatherings. Clan Muirhead and any and all its members are welcome to join Clan Hunter and the use of their Facilities in the second half of July 2004 and every three years after.
On August 2, 2001 the honor was accepted that was given to the Muirhead Clan Members, and a letter was sent Madam Hunter of acceptance and grateful thanks to Clan Hunter for this honor on our behalf.
"Dear Madam Pauline Hunter
of Hunterston and of that Ilk,
Clan Chief and 30th Laird
As President, and on behalf of the Muirhead Clan Society, I accept with honor the link of friendship extended by Madam Pauline Hunter of Hunterston and of that Ilk, Clan Chief and 30th Laird; and I Raymond Lee Morehead Esq., FSA Scot, President of the Clan Muirhead do hereby return the same. This historic linking of our individual clans through friendship, maintaining our own identities and structure, yet sharing not only our common history but also a commitment to an ancient bond is now extended into the future of both our clans. From the battlefields of our ancestors we today across great expanses of water and time once again find the hands of our two clans clasped in
a renewed link of friendship meant, I think, always to be."
This historic link of friendship extends beyond Scotland to where ever Clan Hunter gathers. So if the Muirhead Clan society is not yet represented at your local games and gatherings, look for a Hunter Tent and you will have found a friend and a temporary gathering place. This link of friendship works both ways and at any gathering of the Muirhead Clan, the Hunters are always welcome.
Proud Members of...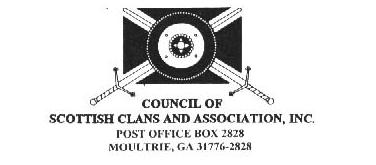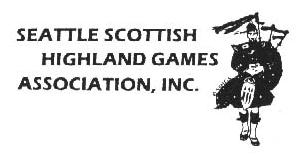 Awards we have received...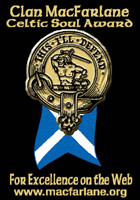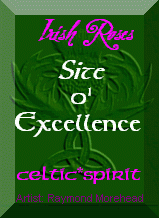 No part of this database/publication may be used for selling, promoting, products and or services, soliciting clients, or for any other commercial purpose. Furthermore, no part of this publication
may be reproduced or utilized in any form or by means electronic, or mechanical, including photocopies, recordings, or by any information storage or retrieval system without the prior written permission of the publisher and owner known as "The Muirhead Clan Society" and or also known as "Clan Muirhead".
©
1999 to Present Clanmuirhead.com Template Design by
FCT