Memberships
Types of memberships: Annual, Friend of the Clan, Life and Honorary

Dues are due Jan. 1st each year. Renewals made after March 1st will be considered and dues after that date will be same as new member. Membership Dues Reminders will be sent out December 1st and January 31st of the New Year. Overdue notices will be sent out February 15th. Members will be contacted by e-mail unless they do not have one, then by post.

***Please keep us advised of any changes in your e-mail and or postal address.***
Your membership will include:

Membership letter
Membership Certificate
Membership Card
"Muirhead Clan Society" official Sticker (one free per paid membership)
Can vote and hold office in the Clan
<Optional additional stickers for members $ 1.50 ea. This price is at cost and can be ordered at any time.>
---

New Membership: $20.00 for single or family membership. Family membership consists of yourself, spouse, and all minor children.

---

Friend: Friend of the clan memberships will be set at $15.00
( Includes same as the full and life members except shall not be able to vote or hold office.)


---

Life: $150.00
(Includes same as full member.)

Honorary: Honorary members will be selected by the Clan Elders and pays no dues. (Includes the same benefits, as the full and life members except shall not be able to vote or hold office.)

---

It is now possible for anyone interested in purchasing Clan Muirhead
Modern tartan at a very affordable price to place their order with
Atlanta Kilts. The weaver's set-up fee has been paid, thanks to nine
Clan Muirhead member's donations, making it possible for orders for all
to be placed.

To get your kilt or fabric from this first weaving ever of our Clan
Muirhead Modern tartan here in the U.S. it is necessary for you to place
your order no later than June 20. I apologize for this short
notice. Especially in this initial weaving the weaver needs to know the
yardage to be woven, certainly to know the quantity, but to see the
degree of interest as well.

Instructions for kilt or skirt measurements that you need to give when
ordering are found on www.atlantakilts.com
<http://www.atlantakilts.com>. You will also find on Atlanta's web site
other items that can be made from our Clan Muirhead tartan, and items to
complete your Scottish outfit. Kilts and women's skirts cost $89.99
plus $15.98 shipping, and fabric costs $19 per yard. The tartan fabric
is "acrylic wool".

Your order must be PHONED in to Atlanta Kilts, as at this early stage
you cannot order on-line. To place your order or if you have any
questions call 1-877-411-5458 and ask to speak with Joan as she is our
contact there. Payment will be expected at the time of ordering.

Hopefully, you will be able to place an order by or on June 20, but if
not the way has been made for ordering Clan Muirhead Modern tartan at
any time.

Janice Muirhead
Clan Muirhead Society
Council Elder
Click on the thumbnails for detailed picture.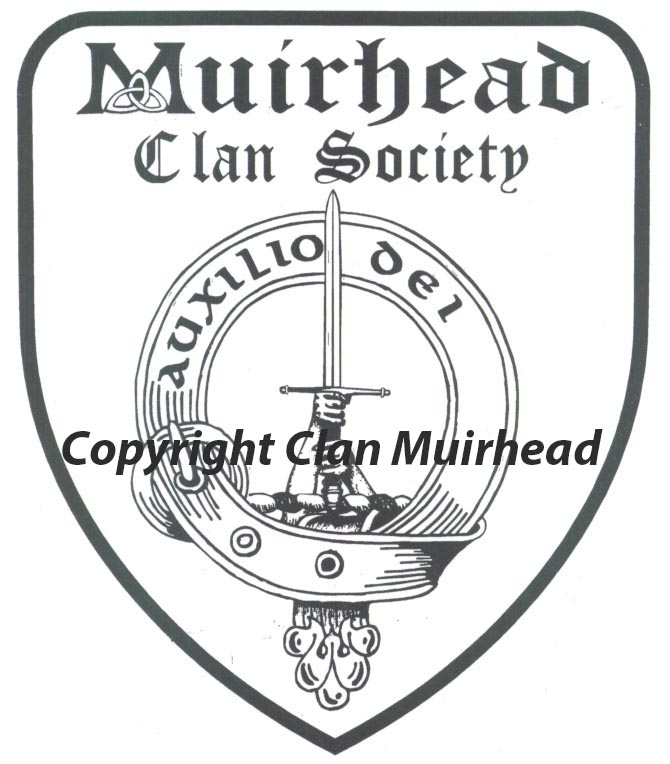 Clan Sticker. Available in other sizes with special order. Standard Clan Sticker comes in black on white or blue on white and is $3.00 each sticker.

---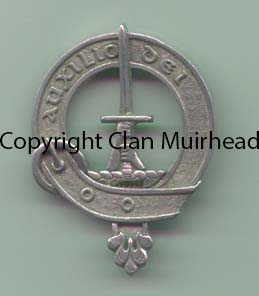 Pewter Clan Badges. Width of 2 and 3/4 inches, with broach pin back. The Clan badge mold and sample has been made by Sparta Pewter in Canada. Not only do they look great but they would make rare gifts for your other family members as well. Badge price ea. @ $20.00 include shipping.
---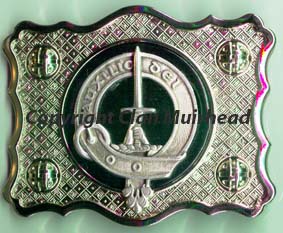 Belt buckle is pewter from Scotland, (Badge and Buckle sold separately, shown together to give you an idea of what it looks like together.) Palladium finish-never have to polish. Fits standard kilt belt, not made to fit today's belts. Kilt belts are 2 and a 1/4 inches width, black and fit sizes 32-56 standard American: Clan Crest Buckle: $28.00 Kilt belt: $35.00

These can be ordered from the Scottish Sword and Shield.
---
---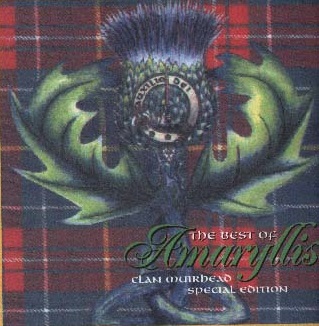 In the year 2000, I commissioned at my own personal expense The Celtic Troubadors, Randall and Linda Dighton to record the ballad "The Laird of Muirhead" on a CD. I am happy to say it has become a reality in 2001. The CD The Best of Amaryllis, Clan Muirhead Special Edition.
1.The Laird of Muirhead/2. Scotland the Brave/3.Scottish Soldier/4. Danny Boy/5. The Scotsman/6. Dark Island/7. The Tartan/8. Jock o' Hazeldean/9. Star of the County Down/10. Leezie Lindsay/11. American Beer/12. Flower of Scotland/13. Loch Lomond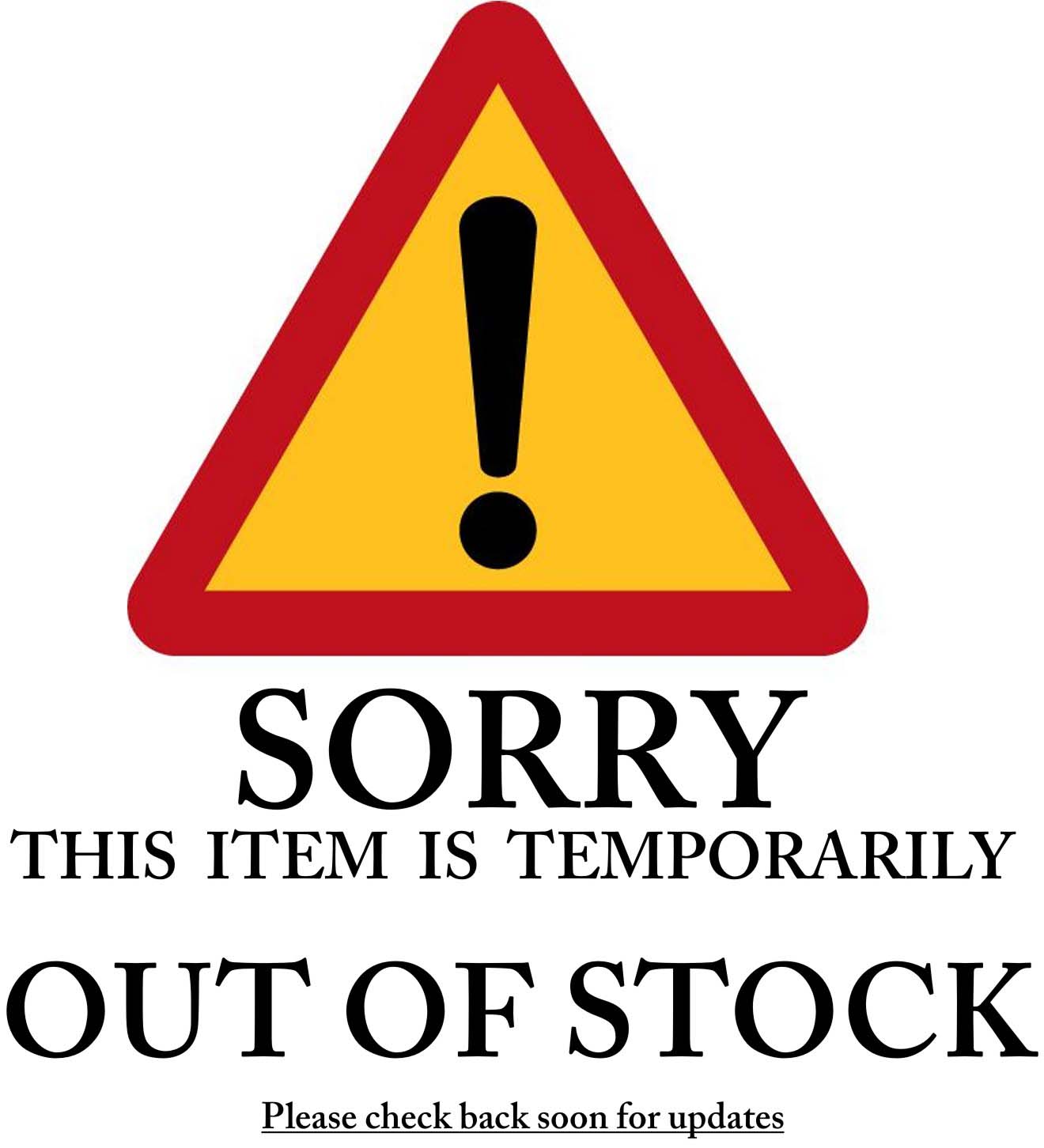 CD Currently Out Of Stock
---
---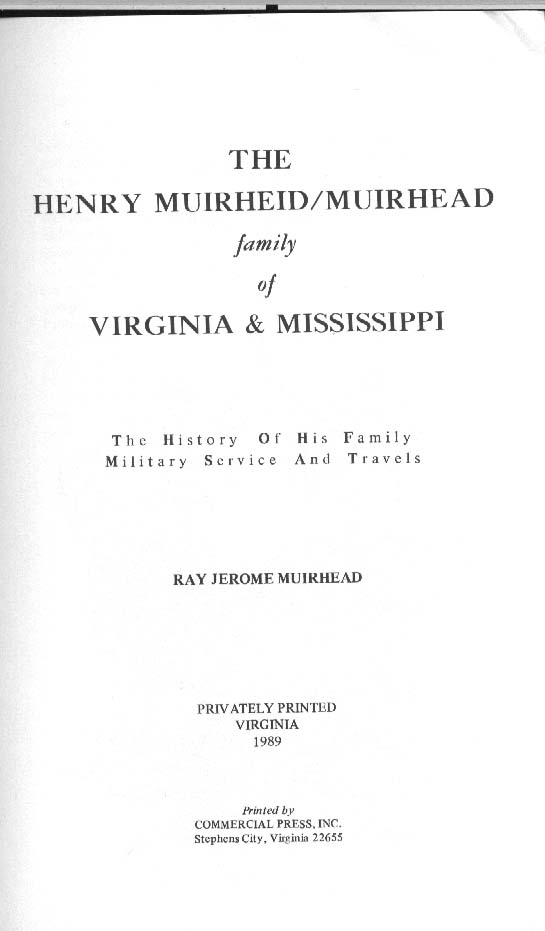 Copies of this book is offered by Raymond Lloyd Muirhead, son of Ray Jerome, author. $28.00 Limited Quantities!
---
HOT OFF THE PRESS

Copyright Artwork
by R. L. Morehead

Click on the thumbnails for detailed picture.
New Clan T-shirts
Colored T-shirts from Laura Muirhead-Matthew
To order T-shirts:
Contact her and order by Size and Color

Laura Muirhead-Matthew
lauraematthew@cox.net or by phone at 480-580-7238

---
---
Signed and Numbered Art Print For Sale by Raymond Morehead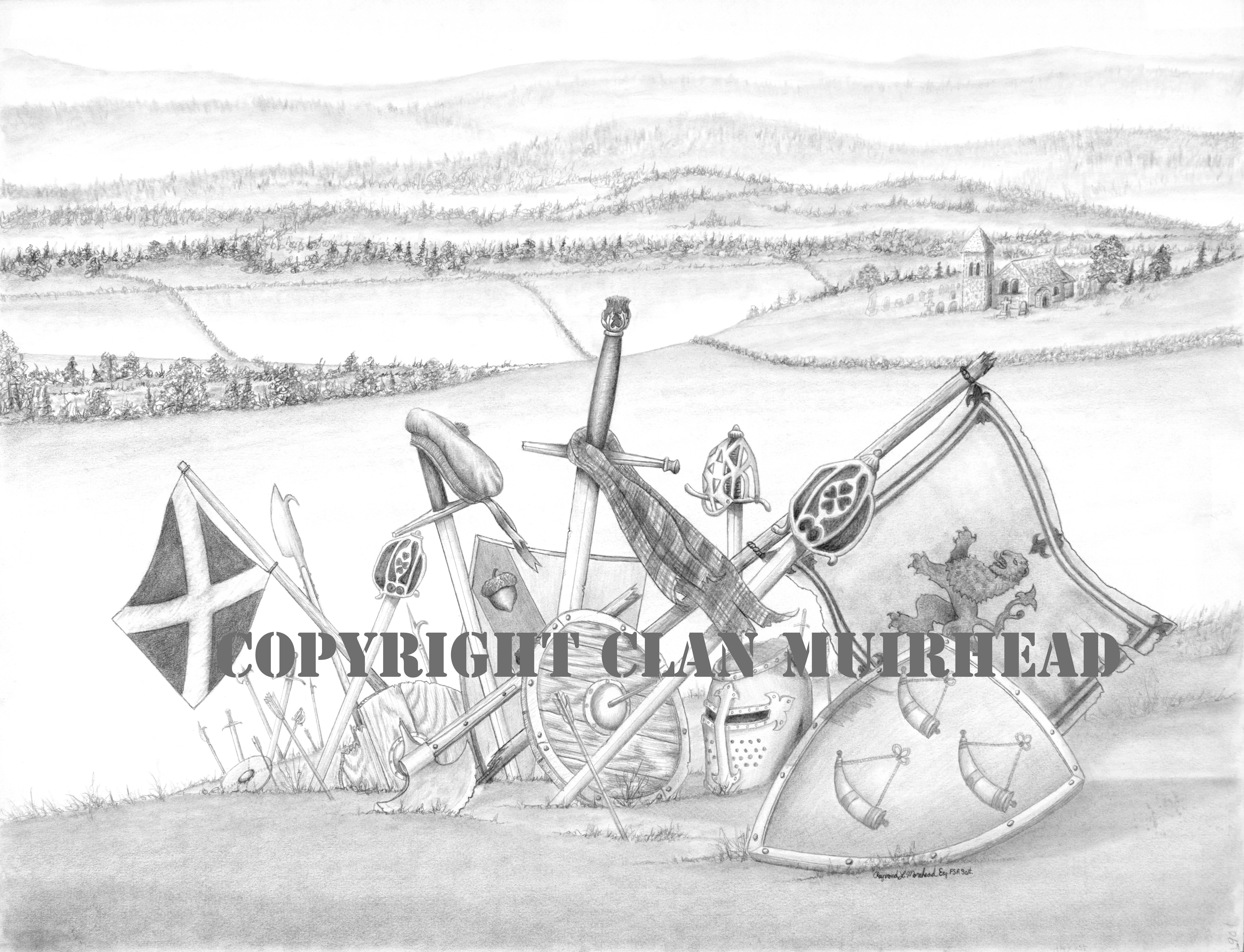 "Remembering The Battle of Flodden 1513"
20" X 26" PRINT ONLY
11" x 17" PRINT ONLY
RETAIL- $45.00
8.5" x 11" PRINT ONLY
RETAIL- $30.00
---
NOTE CARDS With Same Artwork
RETAIL per. 10ea. w/envelopes- $12.00
Matting depends on size and Type
All Postage Included in above prices (US Orders Only) Sent USPS By Weight
Ordering outside of the US: Please contact Raymond Morehead for Shipping Prices.
Can be shipped USPS priority Three day delivery.
Prints are rolled and shipped in tube.
Original artwork sized 20" x 25" price: $700. 00 USD (plus insurance and postage)

Muirhead Clan Society Fund Raiser





$11.00 for 10 cards and matching envelopes.


Click on the thumbnail to open up.